Some spiders sneak when stealth is moot, 
Slipping into unsuspecting boot, 
Settling in without a care, 
Comfort found in sweaty lair
---
AUTHOR'S NOTE: Please be mindful that, while episode 81 of the Magnus Archives, "A Guest for Mr. Spider," is the focus of this article, I may reference specific events or information from later episodes in passing. This is not a spoiler-free zone, apologies!
I will gamely admit that I currently view all creative works I encounter through a Magnus Archives conversion lens, as I've spent the last three months thoroughly marinating myself in all existing episodes and as much sweet, sweet fan-created content as I can get my greedy little hands on.[1] My obsession also means that I'm spotting connections and parallels to the show's motifs everywhere, including innocent bystander blog posts that turn up on WordPress Reader. Which is where I spotted Dim But Bright Poetry's charmingly illustrated "Spider Sense," now featured at the top of this post. Almost immediately after reading it I thought of "A Guest for Mr. Spider," and could not stop thinking about it.
A quick note before I get started: spiders in the Magnusverse serve several specific narrative functions, and I have every intention of giving discussing these functions and plotty labyrinths in more detail at a later date–but, I'm not going to get into them in detail today. Today I just want to write about spiders, I guess.
---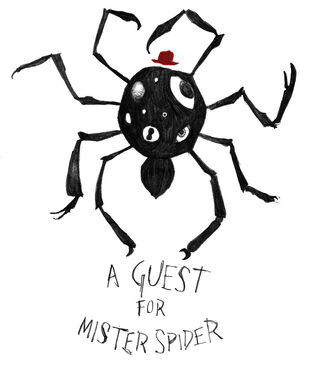 Is there enough collective cultural knowledge behind the verse, "along came a spider," to transform it into a literary conceit? I think there must be, otherwise spiders and their webs and the sorts of spidery characters who crouch at their centres–or find themselves tangled up within them–wouldn't be such a mainstay of literature. Specifically children's literature, where the spider as a character is nearly always sly and clever and unambiguously up to no good, and therefore a reliable source of dramatic tension in a story or poem. When the spider comes along in a children's tale, its arrival signals to a young reader that someone in the story is in danger, whether that someone is Mary Howitt's Fly or, as is probably the case in "Spider Sense," some unknown person's socked foot. (Or the spider itself. One small spider vs. one large foot? Odds aren't looking good for you, little spider.)
This brings us to The Magnus Archives, an audio drama horror podcast produced by The Rusty Quill that is intended for older audiences and so lacks on its surface anything to do with children's literature. But Episode 81 is transparently about childhood, grounded in the recollection of narrator and central protagonist Jonathan Sims' childhood trauma as he records his statement for the Magnus Institute.[2]
The object at the centre of his trauma is a book–a children's book, at first blush–called "A Guest for Mr. Spider." And this book, more than any of the other nightmarish tomes in the series–which are all capable of scarring minds, ruining lives, and dispensing horror after horror upon anyone unlucky enough to stumble upon one–is the one book that feels the most fundamentally evil to me as a listener. I suspect it feels that way because it is the only one whose very design preys upon the trust of children and their engagement with stories.
---
Continue reading

"along came a literary device: 'a guest for mr. spider' and the magnus archives, part 1"